Sharon Stone Begs Beto O'Rourke to 'Run for Senate': 'Help Your Country'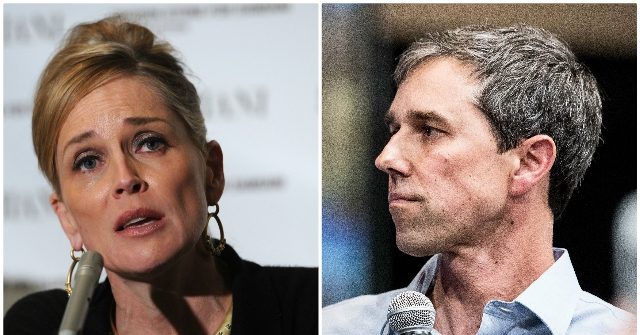 Actress Sharon Stone praised former Texas Rep. Beto O'Rourke (D) on Tuesday, telling him that he has a "huge future" in politics and urging him to "help" the country by running for a U.S. Senate seat — while he's currently polling at 1 percent in the Democrat Party's presidential primary race.
"@BetoORourke you have a huge future in politics, please run for Senate and win! We need you so much! Help your country! Thank you!" the Basic Instinct actress said Tuesday.
.@BetoORourke you have a huge future in politics, please run for Senate and win! We need you so much! Help your country! Thank you !

— Sharon Stone (@sharonstone) August 13, 2019
It remains unclear why Sharon Stone is encouraging O'Rourke to run for Senate, considering his current bid for the highest office in the land. It could be that she feels he stands a better chance winning on a smaller scale, as he is currently struggling to hit above three percent in national polls.
The actress is also among Hollywood A-list celebrities opening up their wallets to Pete Buttigieg. Stone, who donated $5,600, was among the more than 50 celebrities who gave Buttigieg money during the second quarter.
🔥🔥🔥🔥🔥
🔥🔥🔥🔥🔥
O'Rourke challenged Sen. Ted Cruz (R-TX) in 2018 and was defeated, despite out-raising and out-spending the incumbent by over $30 million and receiving tremendous support from Hollywood elites. Cruz defeated O'Rourke by 2.6 percent.
Stone's plea follows the Houston Chronicle's editorial board calling on O'Rourke to drop out of the presidential race and challenge Sen. John Cornyn (R-TX) instead.
Would you beat John Cornyn, who is seeking his fourth term? It wouldn't be easy. You'd have to fight for it, and do better than you did against Cruz. But a lot has changed since 2018 — you had a lot to do with that — and Trump is no longer rock-solid in Texas. Neither are the Republicans who support him.
"Come home. Drop out of the race for president and come back to Texas to run for senator," the editorial board closed. "The chances of winning the race you're in now are vanishingly small. And Texas needs you."
http://feedproxy.google.com/~r/breitbart/~3/pNt4lbXGMgU/
🔥🔥FOLLOW MICHAELANTONIO ON THESE SOCIAL MEDIA SITES🔥🔥
Singer / Songwriter / Voice Talent / Actor / Media Personality – Born in Syracuse, NY. He holds a bachelor of science degree in communication from Florida Institute of Technology with specialization in technical writing, business, public relations, marketing, media, promotion, and aerospace engineering.