Doctors And Mother Stunned By Birth Of Thanksgiving "Miracle Baby"
"Children are a heritage from the Lord, offspring a reward from him. Like arrows in the hands of a warrior are children born in one's youth. Blessed is the man whose quiver is full of them. They will not be put to shame when they contend with their opponents in court." Psalm 127:3-5
God holds children in the highest regard. There are no purer hearts filled with compassion than a child's. Sadly, there are some children who face grave danger before they are even born. But, miracles do happen and He leases a second chance to the truly blessed. Below is one such story of a miracle child.
Jocelyn Robinson shivered at the news that no mother wants to hear: her new born baby had no heartbeat. Jocelyn worried deep down that something was amiss when she arrived at the hospital with complications. Doctors at the Mt. Sinai Hospital rushed to her aid and put her through several ultrasound scans to assess the situation. Dr. Sampson, the first doctor who reviewed the scans, thought it was best to tell the mother the truth that they did not hear a heartbeat. Before arriving at a final conclusion, Dr. Sampson called in on another colleague for a second opinion. Jocelyn recalls when a doctor came in and gave her the bad news. Her baby had passed away even before it could be a part of this wonderful world. The parent's world came crashing down and such an incident leaves behind deep scars. The father of the new born child recalls that he wept like a child when the doctors gave him the news. Doctors were now focused on saving Jocelyn who had started to lose blood. She was diagnosed with placenta previa, a condition where the placenta blocks the cervix. None of the doctors at the hospital were prepared for what was to happen next.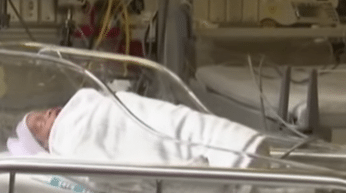 Amid the grave situation of getting things under control, Dr. Sampson heard a small gasp from the baby boy. A second gasp followed soon after. Noah, born at a light four pounds and thirteen ounces, turned out to be a healthy baby. Noah's father Ignacio Guzman exclaimed that Thanksgiving will forever be the day he started to believe in miracles. Dr. Sampson was also lost for words. She commented that an incident like this when a declared stillborn child takes its first breath, is nothing but a miracle.
The power of faith and prayer can move mountains. Making this statement an example is the resurrection of a baby girl who took her first breath after 28 minutes. Back in March 2014, mother of four, Robin Cyr was rushed to the hospital for delivery. During the delivery, something terrible happened: the baby girl got stuck in the birthing canal and was cut off from the necessary supply of oxygen and blood. She did not have a detectable heartbeat on coming out. The doctors put in their best efforts to save the baby, but after 28 minutes of futile attempts of reviving a heartbeat, they gave up. The baby was pronounced dead. Two minutes after wheeling the baby to the morgue, the nurses brought her back. She had a heartbeat and was healthy. Doctors who were present were shell shocked: the only rational explanation to the incident of life, death and resurrection is a miracle. Named Mireya, Spanish for miracle, she is a healthy, happy and a bouncy baby.
Nothing comes close to this next story of the revival of Yasmin in 2013. Even to the eyes of a non-believer, this story holds no other rational explanation for the sequence of events but a 'miracle.' Twenty two year old Jenifer da Silva Gomes delivered her baby Yasmin, through natural delivery at a hospital in Brazil. Immediately after birth, Yasmin was pronounced dead. Doctors did not give up hope and tried for an hour to revive the little angel. Knowing that they have failed, a death certificate was drawn up and they wheeled the baby towards the morgue. Little Yasmin was pronounced death at 11a.m. A nurse who worked at the hospital thought it was more fitting to take little Yasmin to the hospital chapel instead of the morgue. She wanted to bundle the body. After 3 hours in the chapel, Yasmin's godmother and the mortician went to the chapel to collect her. They were in for a miraculous surprise; Yasmin opened her eyes and was rushed to the intensive care unit, immediately. Yasmin appeared healthy, normal and happy.
God works in mysterious ways. When you feel like you're sinking and see no hope in the horizon, He throws in a rope to bring you ashore. Children are the closest to God because they are untarnished by the evil which roams freely. They are pure in thoughts and action. There can be no meaningful gift than the first breath of a child. Nine months of caring, protecting and prioritizing the new member of the family is a dream most women yearn for. But, incidents of stillborn children, plants a seed of fear. There are cases when such miracles failed to happen. But, there are higher numbers of incidents where bad news turned into joy. There is no reason for what happens and how. One mother of a miracle baby suggests that everything that takes place does so in accordance of His will.
[embedded content]
Share this story and remind others that God has everything under control!
<a href="https://www.jesusdaily.com/feed"
⭐️Singer/Songwriter/Voice Talent/Actor/Media Personality⭐️
Born in Syracuse, NY. He holds a bachelor of science degree in communication from Florida Institute of Technology with specialization in technical writing, business, public relations, marketing, media, promotion, and aerospace engineering.
⭐️ Las Vegas Entertainer ⭐️ MTV uplaya Platinum Auddy Award Winner ⭐️ Southeastern FTTF Talent Champion ⭐️ Movies & TV ⭐️ Listed in 'Who's Who' publication ⭐️ Voted 'MOST MARKETABLE': Sonic Records ⭐️ U.S. Veteran ⭐️