Next-Gen Pop: The 15 Music Newcomers You Need to Know Before They Break Big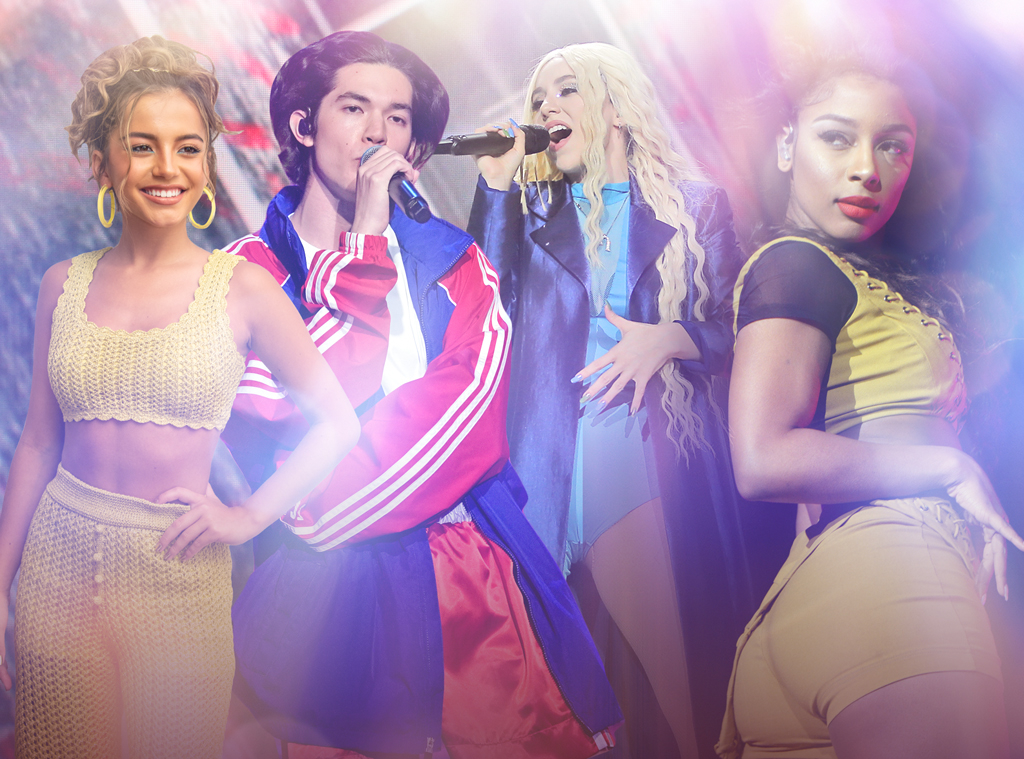 Getty Images/E! Illustration
There's nothing like discovering a musician before they've become a household name.
It can feel a bit like getting in on the ground floor of an exciting business opportunity, before the fandom is too crowded, giving you an (admittedly unearned) sense of pride as you watch the pop upstart you've been stanning since day one become the star you always knew they'd be. We won't lie, there's a bit of snobbery that you feel entitled to as you tell friends and family jumping on the bandwagon late, "I knew them then."
The big question, of course, is who will be 2020's Billie Eilish? Who out there is about to release this year's "Old Town Road"? Where's the next Lizzo out there, hiding in plain sight, just waiting for the world to catch up to their undeniable talents and all they have to offer?
Make no mistake, they're out there, just waiting for you to discover them. And that's where we come in.
We've narrowed down our picks for the 15 future pop stars who we think are poised for major breakthrough this year. These are the names that are very likely going to be a part of the pop music conversation for months to come. So get ahead of the curve and get into them now.
Brandon Hicks
Victoria Monét
The Grammy-nominated songwriter with her fingerprints all over much of BFF Ariana Grande's discography is ready to step into the spotlight herself. And after the release of bops like "Monopoly and "Ass Like That," we'd say the spotlight is more than ready for her. Something tells us 2020 is going to see big things from Victoria.
MUST LISTEN: "Ass Like That"
Lauren Dunn
Ava Max
25-year-old Ava Max earned a top 10 hit on the Billboard Hot 100 last year with her breakthrough single "Sweet but Psycho," a dance-pop track reminiscent of early Lady Gaga. Subsequent bops, including the excellent "Torn" and "Salt," have only amped up our excitement for the debut album said to be on its way this year. Much like the pop diva she reminds us of in 2008, we expect this to be the year that makes Ava a household name.
MUST LISTEN: "Sweet but Psycho"
Mallory Turner
Conan Gray
We've been obsessed with 21-year-old Conan Gray and his confessional approach to pop since we stumbled upon early single "Generation Why" in 2018. And we've been impatiently awaiting a debut album ever since. Well, the wait for Kid Krow is almost over, with the album dropping on March 20. With singles like "Comfort Crowd," "Maniac" and "The Story," and its just-released music video, out, the time to get familiar is now.
MUST LISTEN: "Maniac"
Rosie Marks
Georgia
The future of synth-pop is in good hands now that UK-based Georgia Barnes is on the scene. Her just-released album Seeking Thrills, with its forays into just about any genre that'll make you rush to the dance floor, including Detroit techno and Chicago house, announces her as the heir apparent to Robyn. It's just that good.
MUST LISTEN: "About Work The Dancefloor"
Mia Clark
Celeste
There's a reason the American-born British singer Celeste Waite was named the No. 1 breakthrough act of 2020 in Sound of 2020, the annual BBC poll of music critics. And that's because her intoxicating blend of British soul, jazzy blues and R&B is the real deal. Her first single of the year, "Stop This Flame," had us hooked in a matter of seconds. Bring on the debut album.
MUST LISTEN: "Stop This Flame"
Lumia Nocito
EVAN GIIA
The Brooklyn-based Evan Giia has only released two tracks since signing with dance and electro-focused Astralwerks last year, but, boy, what a pair of bops they are. Both "Encore" and "Sidelines" reveal an artist who's landed on a winning formula, pairing her classically-trained vocals with some sublime beats. The bone-rattling drop in the former was enough to have us stanning. We can't wait to hear what's next.
MUST LISTEN: "Encore"
Trey Lyons
Isaac Dunbar
One listen to any of the recent releases from Isaac Dunbar and you'll marvel at the fact that he's merely 16. Songs like "onion boy" and "body" exhibit at an alt-pop sensibility that posits him as the male equivalent of Billie Eilish. But it's his exquisite cover of unreleased Lady Gaga song "Princess Die" that left us breathless. With more music on the way this spring, this is a name you'll be hearing a lot of in 2020.
MUST LISTEN: "princess die"
Ashley Osborn
Tate McRae
Another 16-year-old with the assured talent of someone who's been in the game for decades, Tate McRae began to make a name for herself with the singles "tear myself apart" and "all my friends are fake. But it wasn't until she dropped the slick mid-tempo banger "stupid" that we really began to take notice. And now we can't wait for her debut EP, all the things i've never said, to drop on January 24.
MUST LISTEN: "stupid"
Myai Anthony
Amindi
A few years after making a name for herself with the excellent dancehall hit "Pine & Ginger," created alongside Tessellated and Valleyz, the L.A.-based Amindi has released one of 2020's first truly excellent singles in the form of the Kari Faux-featuring "Love Em Leave Em." The summery bop is an expert fusion of dancehall, pop and R&B—and it's got us hungry for more.
MUST LISTEN: "Love Em Leave Em"
Imogen Wilson
BENEE
New Zealand musician Stella Bennett first caught our attention with "Find an Island," a punchy little pop track released in October ahead of Stella & Steve, the busy singer's second EP of 2019. With a combined 11 tracks released across the two EPs, there wasn't a genre that she was afraid to approach through her uniquely alternative prism. Get into her now before the push behind her inevitable debut LP makes her a superstar.
MUST LISTEN: "Find an Island"
Sami Drasin
Isabela Merced
After starring in last year's Dora and the Lost City of Gold as the titular explorer and changing her stage name from Isabela Moner to a surname in memory of the late grandmother she never got a chance to meet, Isabela Merced kicked off a pop music career with the bilingual bop "PAPI." The empowered anthem, which finds Isabela telling her man exactly why she will never, under any circumstance, refer to him by the song's title, slaps. More of this soon, please.
MUST LISTEN: "PAPI"
Spencer Miller
Trevor Daniel
There's a reason Trevor Daniel's 2018 single "Falling," which just got the music video treatment, continues to climb the Billboard Hot 100, currently sitting at No. 31. And that's because the track, which follows in the footsteps of Post Malone and blackbear's trap-influenced pop/R&B, is an absolute banger. With two EPs already released, there's plenty to discover ahead of what's sure to be a huge year for the 25-year-old Houston native.
MUST LISTEN: "Falling"
Elektra Records
Tones and I
Australian pop upstart Toni Watson had a true moment in 2019 thanks to the release of her chart-topping track "Dance Monkey." And for good reason. The song is an absolute smash. An EP, The Kids Are Coming, soon followed, delivering a title track that tapped into the anger of a generation that's watched those who came before them just f–k everything up. Another absolute smash. You might as well get into her now because you're probably already hearing her music everywhere you turn anyway.
MUST LISTEN: "Dance Monkey"
Julian Gillstrom
Winona Oak
Listening to Swedish singer Johanna Ekmark, who performs under the name Winona Oak, conjures up feelings of Lana Del Rey if she were ready to storm the dance floor. Trust us when we tell you that's a very good thing. On her just-released debut EP Closure, she absolutely stuns over the course of six songs, each one more seductive than the last. What can we say? The Swedes just have away with pop. And for that, we are eternally grateful. Look for her to breakout in a big way this year.
MUST LISTEN: "Control"
Riccardo Castano
Griff
Upon dropping her debut EP The Mirror Talk last fall, UK-based artist born Sarah Faith Griffiths revealed herself to be a staggering talent. At just 18, she's a one-woman powerhouse, handling all writing and production duties on her own on top of delivering next-level vocals. The resulting five future-pop tracks are as mature and assured as anything the legends in the game are releasing, assuring that Griff is a name we'll all be talking about for years to come.
MUST LISTEN: "Paradise"
move
Watch E! News weekday mornings at 7 a.m.! And don't miss our 2020 Grammys: E!'s Inside Guide special Wednesday, Jan. 22 at 11 p.m. for a Grammy Awards preview!
https://www.eonline.com/news/1111883/next-gen-pop-the-15-music-newcomers-you-need-to-know-before-they-break-big?cmpid=rss-000000-rssfeed-365-topstories&utm_source=eonline&utm_medium=rssfeeds&utm_campaign=rss_topstories
⭐️Singer/Songwriter/Voice Talent/Actor/Media Personality⭐️
Born in Syracuse, NY. He holds a bachelor of science degree in communication from Florida Institute of Technology with specialization in technical writing, business, public relations, marketing, media, promotion, and aerospace engineering.
⭐️ Las Vegas Entertainer ⭐️ MTV uplaya Platinum Auddy Award Winner ⭐️ Southeastern FTTF Talent Champion ⭐️ Movies & TV ⭐️ Listed in 'Who's Who' publication ⭐️ Voted 'MOST MARKETABLE': Sonic Records ⭐️ U.S. Veteran ⭐️