Any Country That Joins Russian 'Union' Can Have Nuclear Weapons, Says Belarus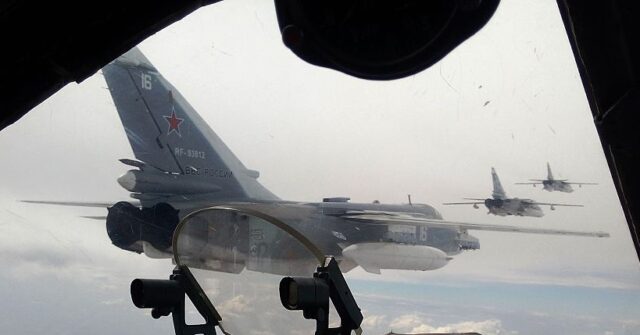 ⭐️⭐️⭐️⭐️⭐️
There could be "nuclear weapons for everyone" who wants to join the Union between Russia and Belarus, President Alexander Lukashenko said.
Following the deployment of nuclear weapons to European Union-bordering Belarus for the first time since the end of the Cold War last week, Belarus's President has opened the invitation to "everyone" to join the security pact with Moscow and get nuclear weapons in return.
"If someone is worried [then] it is very simple", Reuters reports Belarussian President Alexander Lukashenko as saying in a televised interview with Russian state television station Russia 1. All any country worried about its security had to do was "join in the Union State of Belarus and Russia. That's all", he said.
Nuclear-Capable Missiles Now Deployed to Europe in Belarus, Claims Russia https://t.co/1lOHOvyZ3V

— Breitbart London (@BreitbartLondon) April 5, 2023
That step completed, the Russian security guarantee in this "Union" with Moscow would ensure "there will be nuclear weapons for everyone".
As for who might be in line to receive this largess, Lukashenko said: "No one is against Kazakhstan and other countries having the same close relations that we have with the Russian Federation". Putting a positive spin on things, the Belarussian leader also said on Sunday that his nation and Russia were fighting for a "multipolar world order, which is in the interests of all – China, Indians, Arabs, Africa, and Latin America".
Despite that, the forward-deployment of Russian nuclear bombs to European soil comes amid a recent flurry of threats, both veiled and overt, of nuclear strikes against the West in retaliation for NATO aiding Ukraine in its defence against Moscow's invasion.
Russian nuclear weapons first reportedly appeared on Belarusian territory in April. Speaking on Sunday, Belarus Security Council Alexander Volfovich blamed the West for this development, saying they had been left no choice by becoming a base for nuclear weapons in response to Western support for Ukraine in response to Russia's invasion.
Russia Formalises Agreement to Deploy Nuclear Weapons to Europe in Belarus https://t.co/h4lvpGBEPo

— Breitbart London (@BreitbartLondon) May 25, 2023
Volfovich accused the United States of trying to provoke tension and said the West should not cross red lines. He said: "The West has simply left no other options for Belarus… the use of even tactical nuclear weapons will entail irreversible consequences. Of course, this will be the last, but justified step to defend our country. We don't want anything that doesn't belong to us but will not give up anything our own."
Lukashenko himself is something of a throwback in Europe. A former communist official and veteran of the Soviet army, he has been the President of Belarus non-stop since 1994. The Belarusian dictator's health has been a subject of persistent speculation in recent weeks, including claims over the weekend he had been rushed to hospital shortly after a private meeting with Vladimir Putin in Moscow on Sunday.
The Russian-Belarusian Union Lukashenko refers to actually dates back to 1999, but appears to be taking on new relevance now Russia is stationing its nuclear weapons on Belarusian territory. Expanding the Union has been frequently discussed over the years, with many countries — including Ukraine — discussed as potentials for joining a mooted Rublezone.
Canadian Military Intelligence Says No 'Radioactive Cloud' Over Europe: 'Russian Disinformation' https://t.co/Z7XDfHTXlQ

— Breitbart London (@BreitbartLondon) May 26, 2023
https://www.breitbart.com/europe/2023/05/29/any-country-that-joins-russian-union-can-have-nuclear-weapons-says-belarus/
⭐️Singer/Songwriter/Voice Talent/Actor/Media Personality⭐️
Born in Syracuse, NY. He holds a bachelor of science degree in communication from Florida Institute of Technology with specialization in technical writing, business, public relations, marketing, media, promotion, and aerospace engineering.
⭐️ Las Vegas Entertainer ⭐️ MTV uplaya Platinum Auddy Award Winner ⭐️ Southeastern FTTF Talent Champion ⭐️ Movies & TV ⭐️ Listed in 'Who's Who' publication ⭐️ Voted 'MOST MARKETABLE': Sonic Records ⭐️ U.S. Veteran ⭐️