Biden Admin's $40m 'Anti-Terrorism' Program Targets Breitbart News, Conservatives
⭐️⭐️⭐️⭐️⭐️
Documents uncovered by the Media Research Center (MRC) revealed the Biden Administration used a $40 million grant program of the Department of Homeland Security (DHS), ostensibly earmarked for anti-terrorism purposes, to target conservative organizations and media, including Breitbart News.
The Targeted Violence and Terrorism Prevention Grant Program (TVTP) was established by the DHS in 2011 to combat Al Qaeda, but was vastly expanded in its scope by the Biden adminstration.
Its grants now encompass several "media literacy and online critical thinking initiatives," the most radical of which accuse conservative organizations including Breitbart News, Turning Point USA, and the Heritage Foundation of turning Americans into violent neo-Nazis.
Under Biden, the program awarded eighty grants, totaling $39,611,999. Fifty-two percent of the grants were awarded to public institutions, and 48 percent went to private organizations.
One institution that was awarded a grant, the University of Dayton, used its DHS money to create a training program explaining how content from Breitbart News, Fox News, the Heritage Foundation, the National Rifle Association, PragerU, and the Republican National Committee among others led to far-right radicalization.
The conservative organizations were placed in a "pyramid of far-right radicalization" that began with the most mainstream conservative organizations and ended with violent neo-Nazi militants.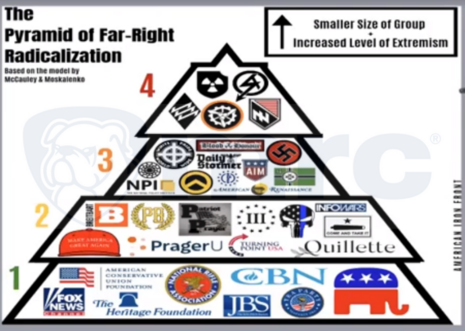 Source – Media Research Center.
According to MRC, one of the DHS-funded seminars at the university compared former President Donald Trump to the genocidal Cambodian dictator Pol Pot, and suggested Florida Governor Ron DeSantis might wish to start a "second Holocaust."
A number of other seminars in the program featured lectures by Michael Loedenthal, a self-proclaimed member of Antifa who endorses committing illegal acts in the fight against the "far right."
"A lot of things we're doing are illegal" said Loedenthal. "A lot of it involves breaking the law."
4/ One of those local leaders is University of Cincinnati researcher @mloadenthal, who presented the pyramid of far-right radicalization in a seminar w/Agent Masztalics.

Here he is at one of the seminars telling the audience a lot of what he's doing and advising is illegal. pic.twitter.com/d4cw1t03hq

— Heritage Foundation (@Heritage) May 25, 2023
Loedenthal also used one of the DHS-funded seminars to push censorship and financial blacklisting, explaining how "antifascists" could pressure platforms like "GoFundMe, Patreon, PayPal, Venmo" to show conservatives the door.
The fact that taxpayer money, funneled through a DHS program established in 2011 to fight Al Qaeda, ended up funding Loedenthal's seminars is another addition to a growing pile of evidence that the Biden administration is using the federal government to target domestic political opponents.
The Republican majority in Congress has been alert to this trend, establishing the Committee on the Weaponization of the Federal Government to investigate and propose solutions.
House Speaker Kevin McCarthy (R-CA) has also taken action, working to cut funding to organizations that have been used to censor conservatives, including NewsGuard and the Global Disinformation Index (GDI).
"I think America is going to be shocked by how much government was doing, working in these—using these government agencies with these private companies to… censor what people can see," McCarthy told Breitbart News in an exclusive interview.
"You're going to find not only are we going to hold them accountable, we're going to be able to use that basis to know legislatively what can we do that they can never do this again."
Allum Bokhari is the senior technology correspondent at Breitbart News. He is the author of #DELETED: Big Tech's Battle to Erase the Trump Movement and Steal The Election.
https://www.breitbart.com/tech/2023/05/25/biden-administrations-40m-anti-terrorism-program-targets-breitbart-news/
⭐️Singer/Songwriter/Voice Talent/Actor/Media Personality⭐️
Born in Syracuse, NY. He holds a bachelor of science degree in communication from Florida Institute of Technology with specialization in technical writing, business, public relations, marketing, media, promotion, and aerospace engineering.
⭐️ Las Vegas Entertainer ⭐️ MTV uplaya Platinum Auddy Award Winner ⭐️ Southeastern FTTF Talent Champion ⭐️ Movies & TV ⭐️ Listed in 'Who's Who' publication ⭐️ Voted 'MOST MARKETABLE': Sonic Records ⭐️ U.S. Veteran ⭐️