Biden's DHS Frees 2.3K Illegal Alien Convicted Criminals into U.S. in Five Months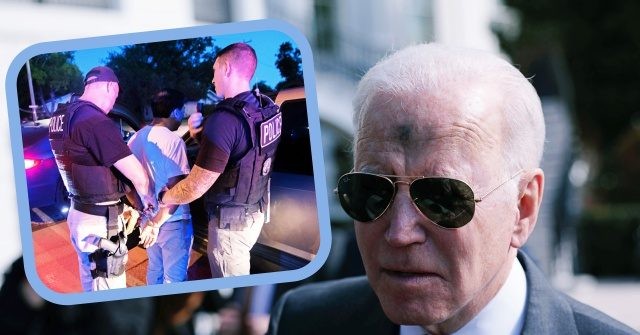 ⭐️⭐️⭐️⭐️⭐️
Since the start of the year, President Joe Biden's Department of Homeland Security (DHS) has released more than 2,300 illegal alien convicted criminals into the United States from detention, data reviewed by Breitbart News shows.
Immigration and Customs Enforcement (ICE) data reveals that from January through the second week of May, Biden's DHS released 2,310 illegal alien convicts into American communities, along with more than 2,850 illegal aliens with pending criminal charges.
Of those illegal alien convicts released from ICE custody since January, nearly 830 bonded out, 612 were released on an order of recognizance, nearly 700 were released on an order of supervision, and over 170 were allowed to parole out.
"With ICE releasing convicted criminals and those with pending criminal charges into American communities, Americans and immigrants will needlessly suffer," the Heritage Foundation's Lora Ries told Breitbart News.
RELATED: DHS: We Are Relying on Released Migrants to Come Back, Won't Say How Long We'll Do Releases For
"Fortunately, Congress has a chance to prevent that and protect lives in the Homeland Security appropriations bill," Ries said. "Passage of the Secure the Border Act was a great first step, now it is time for Congress to aggressively control the purse strings and show they really want the border secure — the American people are watching."
In total, close to 51,000 illegal aliens have been released from ICE custody over the last five months. The releases picked up significantly in April and May as Biden's DHS winded down Title 42, one of the last few border controls at the U.S.-Mexico border.
According to reports last month, ICE chief Tae Johnson requested more detention space from Biden officials, but those requests were shut down in favor of a mass release strategy.
"ICE officials usually aren't allowed to publicly ask for more resources," Ries said. "So when one requests more detention beds and political leadership rejects that request and encourages releasing illegal aliens instead, it is incumbent on appropriators in Congress to listen to the enforcement operators and resource them appropriately."
RELATED: Mayorkas: There Aren't open Borders for Migrants Released Without Court Dates, Tracking Because Most Are Removed
As Breitbart News has chronicled, Biden has sought to gut interior immigration enforcement through so-called "sanctuary country" measures that protect most of the nation's 11 to 22 million illegal aliens from arrest and deportation by ICE agents.
In Fiscal Year 2022, fewer than 30,000 illegal aliens were deported from American communities — including just 23,000 convicted criminals — which represents less than 0.3 percent of the total illegal alien population.
John Binder is a reporter for Breitbart News. Email him at jbinder@breitbart.com. Follow him on Twitter here.
https://www.breitbart.com/politics/2023/05/25/bidens-dhs-frees-2-3k-illegal-alien-convicted-criminals-into-u-s-in-five-months/
⭐️Singer/Songwriter/Voice Talent/Actor/Media Personality⭐️
Born in Syracuse, NY. He holds a bachelor of science degree in communication from Florida Institute of Technology with specialization in technical writing, business, public relations, marketing, media, promotion, and aerospace engineering.
⭐️ Las Vegas Entertainer ⭐️ MTV uplaya Platinum Auddy Award Winner ⭐️ Southeastern FTTF Talent Champion ⭐️ Movies & TV ⭐️ Listed in 'Who's Who' publication ⭐️ Voted 'MOST MARKETABLE': Sonic Records ⭐️ U.S. Veteran ⭐️