Brazil Inks Deal to Use Yuan, Not Dollar, in Trade with China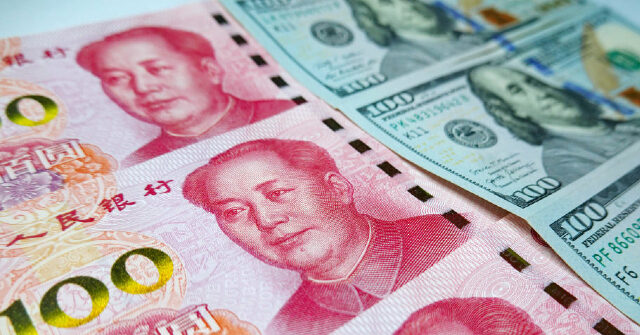 ⭐️⭐️⭐️⭐️⭐️
The governments of Brazil, now under the leadership of radical leftist Luiz Inácio Lula da Silva, and communist China announced an agreement on Wednesday to no longer use the U.S. dollar to conduct trade, instead relying on the Chinese yuan and Brazilian real.
China is Brazil's largest trade partner, meaning the deal will significant decrease Brazil's use of the dollar generally. The deal is one of several between the two countries planned to be announced this week, when Lula was expected to travel to Beijing for meetings with dictator Xi Jinping. Lula, 77, was forced to cancel his travels after being diagnosed with influenza-induced pneumonia this week.
The move follows aggressive efforts in the past five years by China to limit the influence of the U.S. dollar and slowly convince the world to use commerce using the yuan. Beijing has long counted on Brazil as an ally and friend – and fellow member of the BRICS economic and political coalition, whose members have pushed for the eradication of the dollar in global trade – even through the tepid relations with conservative former President Jair Bolsonaro. Towards the end of his term last year, Bolsonaro administration officials stated they had a "great interest" joining China's Belt and Road Initiative (BRI), a global debt trap plan to erode poorer nations' sovereignties through predatory loans meant for infrastructure development.
According to the Brazilian news outlet G1, China and Brazil will create a "clearing house" mechanism with the power of the Industrial and Commercial Bank of China (ICBC) to rapidly exchange reals into yuan and vice versa, eliminating the need for the dollar. Currently, any trade between Chinese and Brazilian businesses, including loans and purchases, requires each side to convert their national currency into dollars to send to the other side. G1 noted, citing Lula administration officials, that China has already established similar "clearing houses" in Chile and Argentina, countries that have officially joined the Belt and Road Initiative.
"The expectation is that this will reduce costs … promote even greater bilateral trade and facilitate investment," the Brazilian Trade and Investment Promotion Agency (Apex Brasil) said in a statement announcing the agreement on Wednesday. Apex Brasil is part of the nation's Foreign Ministry.
The deal will likely impact billions of dollars in trade. Brazil and China documented upwards of $150 billion in trade volume throughout 2022, most of it Chinese exports to Brazil. Brazil is a major source of key agricultural products, notably soy beans, to China; Brazil's exports made up nearly $90 billion worth of trade with China last year. China has been Brazil's largest trade partner for 13 years, since Lula's last stint in office, which ended in 2011.
RELATED: Trump's Interior Secretary Ryan Zinke EXPOSES Successor Deb Haaland's Ignorance on China Threat
House Appropriations Committee
The Chinese Foreign Ministry confirmed the agreement on Thursday, refraining from fully celebrating it but expressing hope that it would facilitate increased trade with Brazil.
"Earlier this year, China and Brazil signed a memorandum of cooperation to establish renminbi (RMB) [yuan] clearing arrangements in Brazil," Foreign Ministry spokeswoman Mao Ning said. "These arrangements will help enterprises and financial institutions in both countries conduct cross-border transactions using the RMB. They will also further facilitate bilateral trade and investment."
Lula has been one of Latin America's most vocal proponents of moving away from using the dollar as a common trade currency. Throughout his candidacy for president last year, the former president and inmate promoted the idea of creating a Euro-style common currency for South America, titled the sur, alongside socialist Argentina.
"We are going to restore our relationship with Latin America. God willing, we will create a Latin American currency," Lula said in an interview in May. "We don't have to depend on the dollar."
In January, following Lula's inauguration, the specter of the sur arose in local media again, as Argentine President Alberto Fernández sought the support of the largest economy on the continent to keep the woefully performing Argentine peso afloat.
"There will be a decision to start studying the parameters needed for a common currency, which includes everything from fiscal issues to the size of the economy and the role of central banks," Argentine Economy Minister Sergio Massa said to the Financial Times in January. "It would be a study of mechanisms for trade integration. … I don't want to create any false expectations, it's the first step on a long road which Latin America must travel."
The BRICS coalition – Brazil, Russia, India, China, and South Africa – has also openly sought ways to distance the world economy from the American dollar. Following Russia's full-scale invasion of Ukraine last year, Russian leader Vladimir Putin increased the pressure of BRICS to seek ways to conduct trade outside of the dollar, allowing Russia to stay afloat amid Western sanctions on its economy.
"The Russian president stated earlier that together with other BRICS nations, Moscow was working on alternative mechanisms of payment. Putin emphasized that Russia's financial messaging system was open for banks from other BRICS countries to join," the Russian news agency Tass reported in June. "According to Putin, efforts are underway to create an international reserve currency based on the basket of BRICS currencies and Russia's Mir payment system is expanding its global presence."
Chinese officials noted that month that the Russian government, which has greatly increased its oil exports to China in the past year, was increasingly urging Beijing to find a way out of using the dollar to enact trade, offering to use the yuan instead.
BRICS will likely require more and stronger member nations to solidify its stance as an alternative economic mechanism to the current dollar-led financial order. To that end, BRICS nation leaders have spent much of the past year discussing expansion. Argentina, Iran, and Saudi Arabia are among the top country names repeatedly surfacing as having an interest in joining BRICS and the economic potential to bring enough to the table to clear the bar for entry.
Disgraced former Brazilian President Dilma Rousseff, Lula's protege, was chosen to lead BRICS' New Development Bank (NDB), its alternative institution to global finance agencies like the International Monetary Fund (IMF), last week.
"Mrs. Dilma Vana Rousseff, a renowned stateswoman and economist devoted to global development over the years, enjoys high prestige and significant influence in the world," Chinese Foreign Ministry spokeswoman Mao Ning said on Thursday. "China, as the host country, welcomes the assumption of office by Mrs. Rousseff. We will continue to deepen all-round cooperation with the NDB and fully support her work."
Follow Frances Martel on Facebook and Twitter.
https://www.breitbart.com/asia/2023/03/30/brazil-inks-deal-use-yuan-not-dollar-trade-china/
⭐️Singer/Songwriter/Voice Talent/Actor/Media Personality⭐️
Born in Syracuse, NY. He holds a bachelor of science degree in communication from Florida Institute of Technology with specialization in technical writing, business, public relations, marketing, media, promotion, and aerospace engineering.
⭐️ Las Vegas Entertainer ⭐️ MTV uplaya Platinum Auddy Award Winner ⭐️ Southeastern FTTF Talent Champion ⭐️ Movies & TV ⭐️ Listed in 'Who's Who' publication ⭐️ Voted 'MOST MARKETABLE': Sonic Records ⭐️ U.S. Veteran ⭐️