Poll: Donald Trump, Joe Biden Are Neck and Neck in Michigan Hypothetical Matchup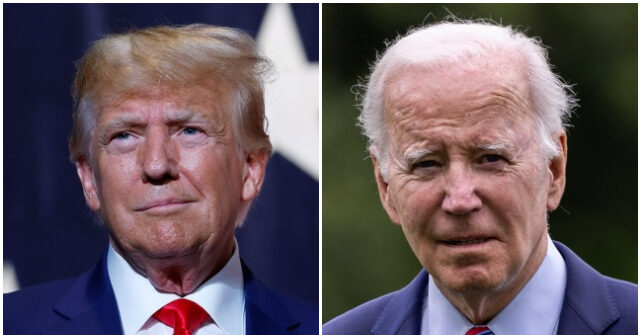 ⭐️⭐️⭐️⭐️⭐️
Former President Donald Trump and President Joe Biden are statistically tied in a hypothetical presidential matchup in Michigan, according to a Susquehanna Polling and Research poll released Saturday.
The poll, first shared with the Hill on Friday, shows 46 percent of likely Michigander voters back Biden in his reelection bid. He sits three points ahead of Trump at 43 percent, while 11 percent are undecided. As the gap between the candidates falls with the 3.7 percent margin of error, the candidates are statistically tied in the Wolverine State.
New SP&R Michigan Poll:
General Election POTUS Ballot:
Biden, 46%
Trump, 43%
Other/Not Sure: 11%

General Election POTUS Ballot:
Biden, 48%
DeSantis, 42%
Other/Not Sure: 9%

Field Dates 9/7-9/12. N=700 LV. MOE +/-3.7%

— SP&R (@SusquehannaPR) September 16, 2023
According to the Hill, Trump holds 37 percent of backing among independent respondents and sits seven points behind Biden as 44 percent of the demographic supports him. However, Jim Lee — the president of Susquehanna Polling and Research — told the outlet the 45th president performs better with his own party base, with 90 percent of GOP support, than Biden does with Democrat voters. Of Democrat respondents, 87 percent back the president.
"[Lee] noted that exit polls showed Biden winning 97 percent of Democrats in Michigan in 2020 to Trump's 94 percent of Republicans, meaning the current president has ground to make up," the Hill's Jared Gans noted.
The trend breaks with a pair of national polls, one being Friday's Harvard-Harris poll and the other being Sunday's CBS News/YouGov poll, showing Trump with an advantage among independents.
Michigan marked a crucial state for the 45th president on his way to the presidency in 2016, winning its 16 electoral votes over twice-failed presidential candidate Hillary Clinton by just one-third of a percentage point, per the New York Times's election results.
In that race, Libertarian Gary Johnson took 3.6 percent of the vote, while Green Party candidate Jill Stein earned 1.1 percent. Former President Barack Obama won the state by nearly ten points against then-GOP presidential nominee Mitt Romney four years earlier.
In 2020, Biden bested Trump for Michigan's coveted electoral votes by just under three percentage points, while that year's Liberation and Green Party candidates did not gain as much traction as in 2016.
This poll also gauged a hypothetical matchup between Gov. Ron DeSantis (R-FL) and Biden, finding that the governor fares three points worse than Trump. In that scenario, Biden's support increases to 48 percent while DeSantis's registers at 42 percent. Another nine percent are unsure who they would back.
Trump leads DeSantis and the rest of the GOP primary pack in Michigan by a hefty margin, taking 65 percent of the vote. DeSantis lands 47 points behind the 45th president with 18 percent support, while no other candidate cracks double digits.
New SP&R Michigan Poll:
GOP POTUS Primary/Caucus Ballot:
D. Trump, 65%
R. DeSantis, 18%
M. Pence, 5%
V. Ramaswamy, 5%
N. Haley, 3%
Not Sure, 3%

Field Dates 9/7-9/12 w/ 700 LV. MOE +/-3.7%

— SP&R (@SusquehannaPR) September 16, 2023
Former Vice President Mike Pence and 38-year-old entrepreneur Vivek Ramaswamy tie at five percent, while former Gov Nikki Haley (R-SC) follows with three percent. Another three percent are undecided.
Susquehanna Polling and Research sampled 700 likely voters between September 7-12, with a +/- 3.7 margin of error.
https://www.breitbart.com/2024-election/2023/09/17/poll-donald-trump-joe-biden-neck-neck-michigan-hypothetical-matchup/
⭐️Singer/Songwriter/Voice Talent/Actor/Media Personality⭐️
Born in Syracuse, NY. He holds a bachelor of science degree in communication from Florida Institute of Technology with specialization in technical writing, business, public relations, marketing, media, promotion, and aerospace engineering.
⭐️ Las Vegas Entertainer ⭐️ MTV uplaya Platinum Auddy Award Winner ⭐️ Southeastern FTTF Talent Champion ⭐️ Movies & TV ⭐️ Listed in 'Who's Who' publication ⭐️ Voted 'MOST MARKETABLE': Sonic Records ⭐️ U.S. Veteran ⭐️