Populist Pitch: Trump Considers Joining Auto Workers on Strike in Michigan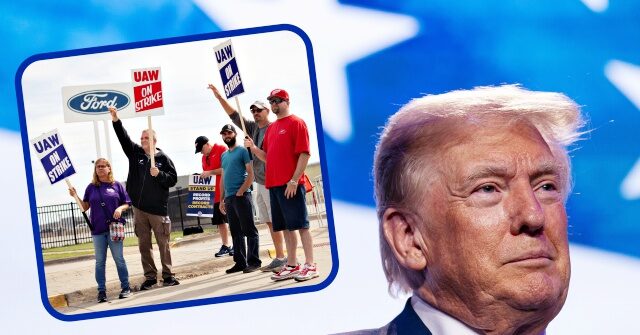 ⭐️⭐️⭐️⭐️⭐️
Former President Donald Trump is considering joining the nation's auto workers who are currently striking against General Motors (GM), Ford, and Stellantis as they negotiate wage increases and job security amid inflation and an electric vehicle (EV) mandate from President Joe Biden.
As Breitbart News is chronicling, the United Auto Workers (UAW) are striking against the Big Three — looking to secure much-needed pay increases while inflation cripples working and middle class households and commitments from automakers, as well as the federal government, that their jobs and wages will not be devastated by Biden's EV agenda.
Now, Trump is considering paying auto workers a visit in Michigan as a sign of support, according to Nolan Finley at the Detroit News:
The sources say the campaign is holding details of the visit close, but expect to see Trump in Michigan in the next few days. [Emphasis added]

If he does come, it would most likely be to Ford Motor Co.'s assembly plant in Wayne, one of three facilities hit by the United Auto Workers strike late Thursday. The two other impacted plants are a General Motors site in Wentzville, Missouri, and a Stellantis center in Toledo, Ohio. [Emphasis added]

…

If Trump hopes to reconstruct the coalition that carried him to victory in 2016, he'll need union members to join the other blue collar workers who made up the core of his base. [Emphasis added]
Late last week, Trump warned auto workers that they are "being sold down the river" by the Biden administration's push for a rapid transition to a green economy where EVs dominate the road.
"The auto workers will not have any jobs … because all of these cars are going to be made in China. The electric cars, automatically, are going to be made in China," Trump said. "… those jobs are all going to be gone, because all of those electric cars are going to be made in China. That's what's happening."
In 2016, union workers helped propel Trump and his nationalist-populist agenda to the White House — scoring the most support among union households for any Republican presidential candidate since former President Ronald Reagan in 1984.
In 2020, Biden helped widen that gap by taking 57 percent of union households compared to Trump's 40 percent. Trump could significantly increase his share of union households in a rematch against Biden by registering to vote millions of non-college-educated whites in Michigan, Wisconsin, and Pennsylvania who remain disenfranchised.
The UAW-Big Three negotiations come as auto executives, as well as the automakers' profits, have skyrocketed in recent years. In 2022, for instance, GM CEO Mary Barra raked in almost $29 million, which is 362 times the median paycheck of the average GM employee.
"Profits at the 'Big 3' auto companies — Ford, General Motors, and Stellantis — skyrocketed 92 percent from 2013 to 2022, totaling $250 billion," the Economic Policy Institute (EPI) found:
Forecasts for 2023 expect more than $32 billion in additional profits. CEO pay at the Big 3 companies has jumped by 40 percent during the same period and the companies paid out nearly $66 billion in shareholder dividend payments and stock buybacks. [Emphasis added]
Auto workers have said they "feel abandoned" by Biden and the Democrat party as they increasingly side with multinational corporations over the interests of working and middle class Americans.
For example, Biden's Inflation Reduction Act (IRA) is showering automakers with a massive windfall via taxpayer-funded tax credits for EVs made in the United States, Canada, and Mexico.
At the same time, a publicly funded transition from combustion engines to EVs has the potential to eliminate millions of American auto jobs altogether and is already cutting wages for American auto workers.
John Binder is a reporter for Breitbart News. Email him at jbinder@breitbart.com. Follow him on Twitter here.
https://www.breitbart.com/politics/2023/09/17/populist-pitch-trump-considers-joining-auto-workers-strike-michigan/
⭐️Singer/Songwriter/Voice Talent/Actor/Media Personality⭐️
Born in Syracuse, NY. He holds a bachelor of science degree in communication from Florida Institute of Technology with specialization in technical writing, business, public relations, marketing, media, promotion, and aerospace engineering.
⭐️ Las Vegas Entertainer ⭐️ MTV uplaya Platinum Auddy Award Winner ⭐️ Southeastern FTTF Talent Champion ⭐️ Movies & TV ⭐️ Listed in 'Who's Who' publication ⭐️ Voted 'MOST MARKETABLE': Sonic Records ⭐️ U.S. Veteran ⭐️