Prepare Today So You Don't Suffer from the Coming Food Shortages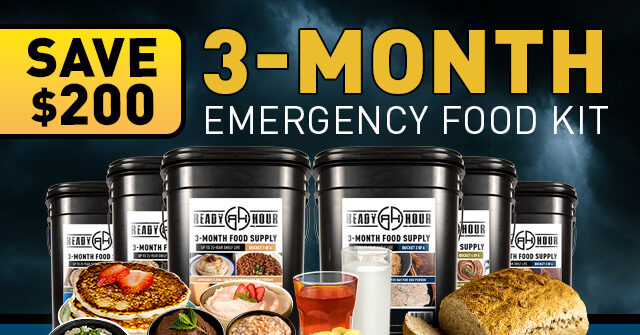 ⭐️⭐️⭐️⭐️⭐️
The following article is sponsored by My Patriot Supply and written by preparedness adviser Grant Miller.
Everyone can see it: The institutions we once trusted are not reliable anymore.
Watch the news and you'll soon hear about more bank failures, stock markets plunging, riots in the streets, violent crime waves, sky-high prices, political scandals – you name it. With the government trying to print its way out of debt while also massively funding global military conflicts, it's not looking good for the average American.
Will the next crisis be the straw that breaks the camel's back? Could be.
The world feels like it's being held together with duct tape. That's why so many American families are preparing for food shortages. After all, if the banks and the financial system fail and the economy grinds to a halt, society can break down in a matter of DAYS. It's almost a "set-up" for the dreaded biblical Apocalypse.
Just look at recent history. Economic catastrophes have devastating consequences. Ask anybody from Venezuela if they trust their government anymore. So, rather than throwing up your hands in despair, now is the time to invest in emergency food storage so you can survive instead of suffer.
My Patriot Supply – the nation's largest emergency preparedness company – has made it easier than ever for you to have peace of mind knowing you're prepared. Go to MyPatriotSupply.com and stock up on our best-selling 3-Month Emergency Food Kit. You get tasty breakfasts, lunches, and dinners averaging over 2,000 calories per day! Get at least one food kit for each family member.
For a limited time, SAVE $200 plus get FREE SHIPPING on our 3-Month Emergency Food Kits.
It's time to prepare for what we all know is coming. It's not "extremist" – it's SMART! Millions of Americans now realize how vulnerable they really are and how fragile our entire social and economic system really is. In fact, today's biggest buyers of emergency food are soccer moms who will not allow their children to go hungry when, God forbid, the you-know-what hits the fan. Self-reliance is the only alternative to long government food lines.
The food in your 3-Month Kit is tasty! Your whole family will love it. You get a wide variety of breakfasts, lunches, dinners, drinks, and snacks – totaling 2,000+ calories per day so everybody stays strong and healthy during a crisis. Calories are your friend. You'll need at least 2,000 calories a day, and that's what these meals provide.
They're easy to prepare, too. Just boil some water, pour the food into the pot, and let it cook. In about 30 minutes, your whole family will enjoy this tasty goodness. You won't even think it's emergency food. It's definitely not like MRE's or "bunker food." Some people don't even wait for a crisis. They eat it right now, every day! It's that good. Better than most grocery store food!
Best of all, once you order your supply, you can rest easy. And you'll be the hero who got it before it was too late! (Be sure to get one kit per person in your family so that nobody goes hungry.)
Clearly, we all know what will come – we just don't know when. That's why your best move now is to make sure you have a good supply of long-term-storage emergency food. Our specially-packaged food stays fresh for up to 25 years! Simply "get it and forget it" – until you need it. It will be there, ready to save the day. And you will be so glad you have it.
Imagine the alternative. It's unthinkable. So don't procrastinate. Check this off your list and sleep better at night knowing your family won't suffer if "the worst" ever happens.
The current situation in America is like a "powder keg" – and one wrong spark could set everything ablaze without warning.
Our stance at My Patriot Supply is far from political. Our only job is to help YOU be fully prepared for whatever the future brings. Disasters and emergencies come in all forms – from Mother Nature to Marxist mayhem in the streets. But when the FOOD system we all rely on suddenly breaks down, it really doesn't matter WHY. What matters most is HOW you're going to survive.
YOUR survival is our only mission.
At My Patriot Supply, we help you eliminate the risks you're facing – whatever they might be, and wherever they might come from. Danger comes in all forms: hurricanes, earthquakes, floods, fires… you name it. It doesn't have to be political or economic. That's why food preparedness is for everyone, no matter what. As the old saying goes, "You can't eat gold."
So don't put this off until later. This is a limited-time offer. Act now or you'll miss it!
Click the link and go to MyPatriotSupply.com to get your 3-Month Emergency Food Kit while it's on your mind.
https://www.breitbart.com/politics/2023/05/30/prepare-today-so-you-dont-suffer-from-the-coming-food-shortages/
⭐️Singer/Songwriter/Voice Talent/Actor/Media Personality⭐️
Born in Syracuse, NY. He holds a bachelor of science degree in communication from Florida Institute of Technology with specialization in technical writing, business, public relations, marketing, media, promotion, and aerospace engineering.
⭐️ Las Vegas Entertainer ⭐️ MTV uplaya Platinum Auddy Award Winner ⭐️ Southeastern FTTF Talent Champion ⭐️ Movies & TV ⭐️ Listed in 'Who's Who' publication ⭐️ Voted 'MOST MARKETABLE': Sonic Records ⭐️ U.S. Veteran ⭐️