Kohl's Faces Boycott Calls Over Pride Onesie for Babies Following Target, Bud Light Backlash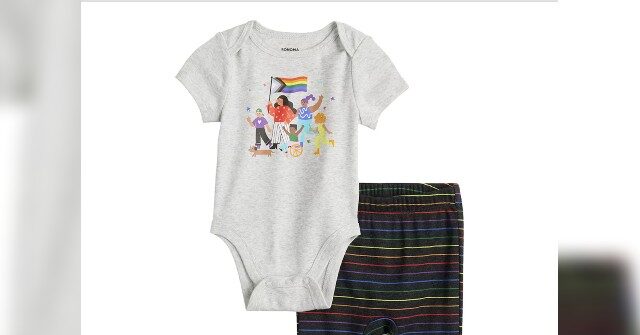 ⭐️⭐️⭐️⭐️⭐️
Kohl's is facing online boycott calls for selling "Pride" onesies for babies as young as three months old, the New York Post reported Monday.
Conservative accounts with large followings on Twitter brought awareness to the onesies over the weekend, which are currently being sold for half-off on the retailer's website. The posts garnered reactions from thousands of users, some of whom said the company needs "Bud-lighting," referring to a devastating conservative-led boycott of Bud Light after the beer company partnered with transgender activist Dylan Mulvaney.
Why is Kohl's selling "Pride Merch" for 3 month old babies? pic.twitter.com/e2ErOzwYOT

— Benny Johnson (@bennyjohnson) May 28, 2023
"Why is Kohl's selling 'Pride Merch' for 3 month old babies?" The Benny Show host Benny Johnson tweeted on Sunday to his 1.5 million followers.
Looks like Kohl's didn't learn a thing from Bud Lite and Target pic.twitter.com/qRzlmepW4B

— End Wokeness (@EndWokeness) May 28, 2023
"Looks like Kohl's didn't learn a thing from Bud Lite and Target," End Wokeness tweeted to its 1.1 million followers, referencing the boycott of Target after the company partnered with a Satanist designer for "Pride" month and sold "Pride" themed items for children.
In case you need clothes for your Gay or Trans 3 month old, Kohl's has you covered pic.twitter.com/N9liAriCzD

— ALX 🇺🇸 (@alx) May 28, 2023
"In case you need clothes for your Gay or Trans 3 month old, Kohl's has you covered," ALX tweeted to his nearly 500,000 followers.
According to the Post, the department store saw a rising number of #BOYCOTTKOHL's hashtags online after the conservative commentators posted about the onesie.
"Another Company needing Bud-lighting!" wrote one "old Texan tired of the BS the left has turned our beloved country into."
"We already know what to do. Kohl's bud light moment," another user wrote.
The product, which has a description that reads, "Celebrate the joy that comes from living authentically and unapologetically during Pride month and all year long with this Baby Sonoma Community® Pride Bodysuit Set," has also received several one-star reviews on the website. The onesie notably comes in several sizes, ranging from three months to 24 months.
"This Is Horrific," one shopper wrote. "Promoting this dysfunctional agenda is causing me to lose all loyalty to Kohl's. Done. No more. On the dust heap with other woke companies that won't stay apolitical. Buh Bye."
"Sick garbage for people with sick minds," another shopper wrote. "Been a customer for years. Won't be back because this is just sick!"
A search of the website also reveals that the retailer is selling a two-pack of "Pride"-themed bibs for half off. The bibs are designed with the phrase "Proud of my family."
Kohl's is one of many retailers that is promoting "Pride" and the LGBTQ+ agenda as a part of its broad-sweeping "ESG" (Environmental, Social & Governance) plan. As Breitbart News has previously reported, ESG investing is a form of leftist activism in the financial sector used to influence the way Wall Street financial firms and corporations continue to take social and political positions that do not relate to their businesses, much like stances associated with climate change, as well as the DEI agenda.
Breitbart News reported:
In fact, BlackRock CEO Larry Fink best described the ESG movement in 2019 when he wrote, "Society is increasingly looking to companies, both public and private, to address pressing social and economic issues. These issues range from protecting the environment to retirement to gender and racial inequality." In another instance, Fink also stated that "behaviors are going to have to change" with companies, and BlackRock sometimes has to "force behaviors."
Kohl's 2022 ESG report outlines several ways the company has been working to further its LGBTQ+ agenda:
Kohl's has committed to providing $20 million in support to diverse communities from 2022 to 2025, specifically Asian American and Native Hawaiian/Pacific Islander (AANHPI), Black, Indigenous and People of Color (BIPOC), LGBTQIA+, people with disabilities, veterans and active military members, and women.
As of 2022, the company reported committing nearly eight million dollars to its goal, putting it on track to meet its overall goal in 2025.
The company also holds "Pride BRG" as one of its eight "Business Resource Groups." These groups are "focused on recognizing and championing diversity and inclusion within the business," according to Kohl's website. The ESG 2022 report details how on June 17, 2022, members of the Pride BRG volunteered with one•n•ten for a Closet Makeover event in Phoenix, Arizona.
"Associates organized the charity closet and helped ready it for summer donations. The organization provides a safe space and donations for LGBTQIA+ youth in the Phoenix area," according to the ESG report.
The report further details benefit offerings, including "an inclusive fertility benefit, a broader range of transgender coverages, and a LGBTQIA+ benefits guide" and "adoption and surrogacy reimbursement options." The company also has a prepaid legal plan with extended coverage for "gender ID change documents," the report states.
The ESG report additionally notes that Kohl's has repeatedly received awards from the Human Rights Campaign, which classifies Kohl's as one of the "best places to work for LGBTQ Equality." The "Pride" section of the website additionally states that the company has made a five-year commitment to the Trevor Project — an organization that encourages children to pursue sex transitions — and has made a $100,000 donation this year to help support over 1,500 "youths in crisis."
Breitbart News reached out to Kohl's for comment but did not receive a response at time of publication.
https://www.breitbart.com/social-justice/2023/05/29/kohls-faces-boycott-calls-over-pride-onesie-for-babies-following-target-bud-light-backlash/
⭐️Singer/Songwriter/Voice Talent/Actor/Media Personality⭐️
Born in Syracuse, NY. He holds a bachelor of science degree in communication from Florida Institute of Technology with specialization in technical writing, business, public relations, marketing, media, promotion, and aerospace engineering.
⭐️ Las Vegas Entertainer ⭐️ MTV uplaya Platinum Auddy Award Winner ⭐️ Southeastern FTTF Talent Champion ⭐️ Movies & TV ⭐️ Listed in 'Who's Who' publication ⭐️ Voted 'MOST MARKETABLE': Sonic Records ⭐️ U.S. Veteran ⭐️